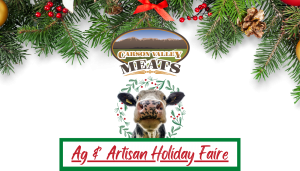 ---
A holiday gathering of the region's most talented creators and producers, plus farm animals, food, demonstrations, exhibits and more!
Saturday, December 3
The Historic Storke Dairy
876 C Centerville Lane, Gardnerville
10 A.M. – 4 P.M.
Schedule of events:
10 a.m. – 4 p.m. – Holiday Vendor Faire booths open for shopping
10 a.m. – 3 p.m. Hungry Hearts NV food truck on site for good grubbin'!
10 a.m. – 4 p.m. Silent auction – block of hay donated by Ahern Rentals
10 a.m. – 4 p.m. – livestock demonstrations
Noon – 3 p.m. Roping demonstrations
1 – 3 p.m. 4-H Horsemanship Club demonstrations
Vendors
Pat Stoddard Aragon – Fine arts paintings
Liberty Food & Wine Exchange – handcrafted breads
Lost Bandidas – Everything you need for the cowboy life
Werdon's Woodworking – hand-turned wood products
Tangled Sisters – Learn the art of Zentangle and Zentangle-inspired art
Misbeehaven Farm – local honey and jams
She Shed Studio – fine silver jewelry
Pat Jordan – The "Fairy Grandmother – reclaimed, recycled and remarkable silver items
Ink & Stone Resin Art – charcuterie boards
Silver & Sage Designs – whimsical holiday and farm-inspired art, candied apples
UNR Cooperative Extension/4-H – Agriculture education, exhibits and demonstrations